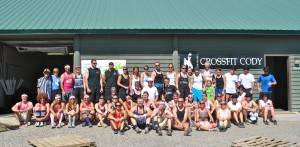 Mark your Calendars for....Saturday, August 29 @ 5:30pm
How it works -  you will be placed on a TEAM, athletes DO NOT have to be CFCody members so invite your friends.  Teams will work together through an obstacle course, designed by your amazing trainers, and the Fittest Team will be crowned!  Our CFCody community is like no other and we want to take this time to thank all of you for allowing us to be a part of your lives.
Invite your family and friends. It won't be easy but all fitness levels will be able to participate.
Time: 5:30pm
Where: Hugh Smith Park
*BBQ to follow race. CFCody will provide the main course and beer.
5:15 & 6:15am classes: Side dishes
8:30am class: dessert
5:30pm class: adult beverages or sides or dessert
*If you would like to participate make sure to put your name, and any other non-CFCody members, on the front board at the gym by Friday Aug 21.